Systems
Apple Computer
FreeBSD
Linux
Microsoft

Free Software
Office
LibreOffice
OpenOffice

WEB
FireFox
Thunderbird

Graphics/Animation/Publishing
Blender
FreeCAD
GIMP
Inkscape
Scribus

For Schools
Moodle
OpenSIS
SchoolForge.net

About the Book
The C/Unix Programmer's Guide is the most comprehensive text available for beginning to intermediate programming in C and C++ in the Unix environment. The book is intended for undergraduate courses and independent learners interested in Unix programming.

You'll learn to write portable software for all operating systems supporting the Portable Operating System Interface based on Unix (POSIX), including AIX, BeOS, DragonflyBSD, Digital Unix, FreeBSD, HP/UX, Linux, LynxOS, NetBSD, OpenBSD, QNX, SCO OpenServer, Sun Solaris, Unixware, and more.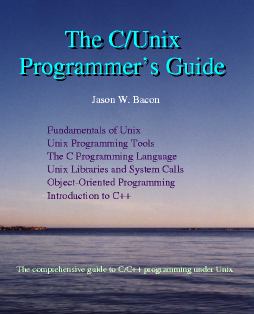 Everything you'll need is covered, including computer and Unix basics, ANSI and K&R C syntax, Unix programming tools like make and debuggers, Unix libraries and system calls, how to build libraries, and a brief but thorough overview of C++. Until now, you would have needed to consult three or four textbooks in order to gather all the information in this book.
Most importantly, the material is presented in plain English, with simple, easy to understand examples. It gets straight to the point, with no cyber-babble, or 10-syllable Latin-based words that you won't find in your pocket dictionary. Also included are dozens of tips on programming for performance, programming with style, and common pitfalls.
ISBN: 0-9670596-0-7
Updates
Addendum
Program Examples
The source code for all major program examples in the book is available as a tar ball. A script for compiling the programs is included.